Real estate prices in major cities in the world are increasing day by day. As living space become more expensive, we turn to technology and ingenuity. Furniture designers are coming up with innovative designs with the small apartment dweller in mind. Some furniture are designed to collapse to save space. Others can transform or convert from one function to another.
Featured on this list are ten of the most innovative space saving furniture we have come across. These are not prototypes or design blueprints. These are actual products that you can purchase today.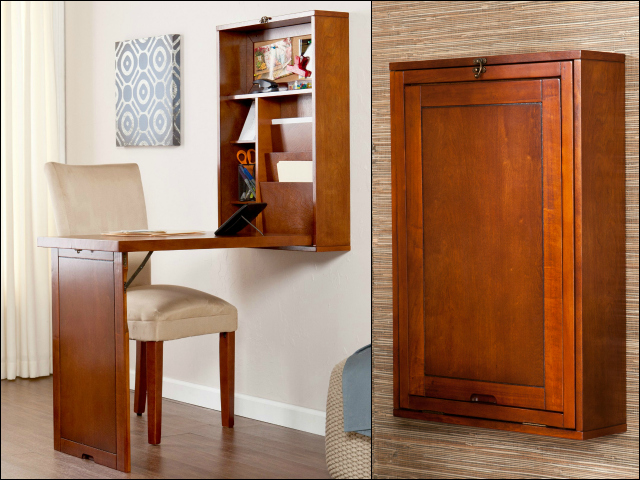 the Fold-Out Convertible Desk creates an instant office out of what seem like a wall cabinet that is only 6 inches deep. This instant work desk even comes complete with shelves for office supplies, slots for file folders and a cork board for notes. Whenever you need a proper space for you to do some work on your laptop, just flip down the desk and when you are done, just remove the items on top of the desk and flip the table top back up. Items in the shelves and slots can remain as they are.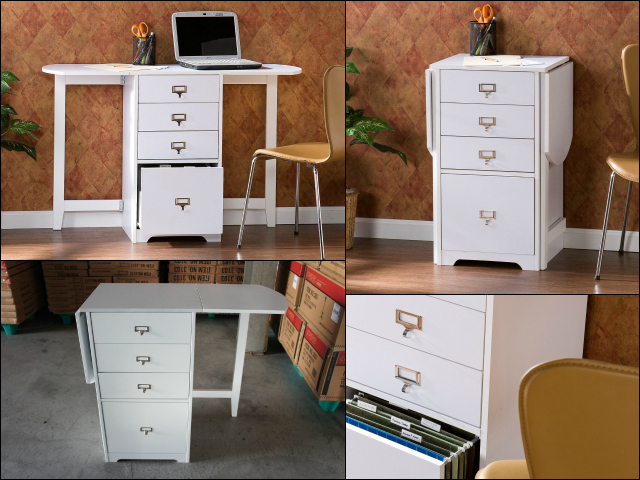 Setting up a separate work desk and crafting table consumes a lot of space and it is a luxury that few of us can afford. Combine both spaces with the Fold Out Organizer and Craft Desk. This organizer and desk 2-in-1 offers a unique space saving solution. Opening both sides extends the desk to a functional and generous 48" work area. When folded, the desk is just as small as a common end table or file cabinet.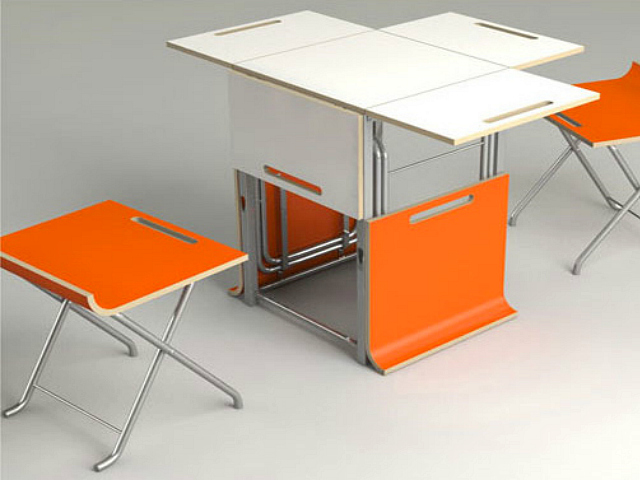 When unfolded, the Paket Folding and Collapsible Table is large enough for a family of four to have their dinner on. Each table leaf can hold a maximum of 60 lbs so they are pretty sturdy. If you do not need all 4 chairs, leave them neatly tucked under the table. When not in use, the storage tower is small enough to be stowed away in a corner leaving better use for the freed up space.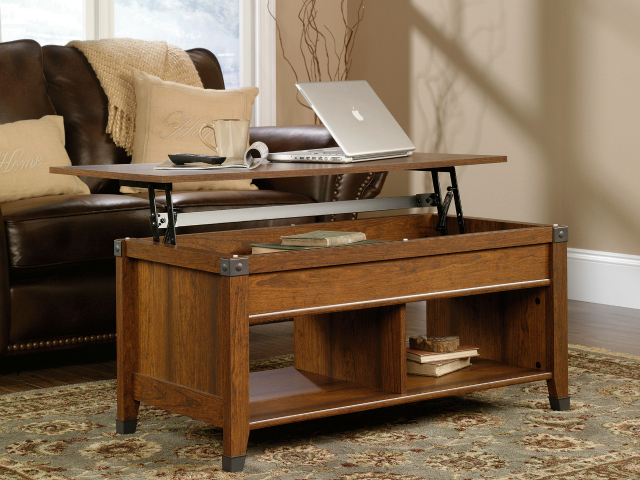 As a coffee table, the Sauder Carson Forge Lift-Top Coffee Table is unassuming but stylish coffee table with a warm native timber Washington Cherry finish, accented with iron rivets. To convert into a high desktop so that you can work properly on your laptop without bending over awkwardly, just gently lift the top of the coffee table and pull it towards you. The Lift-Top Coffee Table even has a built-in cable management system so that you can get those ugly cables safely out of sight.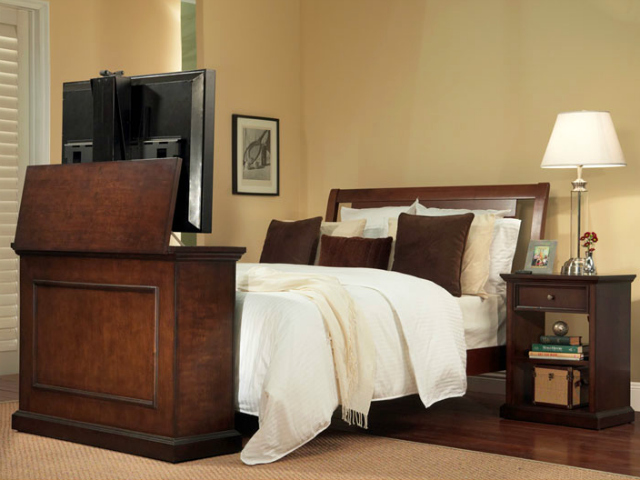 The Elevate 47 inch TV stand is designed to fit flat screen television sets up to 42.5″ wide. This is perfect for the bedroom. The stand features a quick lift technology that lowers or raises the TV within 10 seconds. This is an important thing to consider as with some of the other models, you will have just enough time to catch the closing credits by the time the TV is lifted out of the cabinet. The Elevate 47 inch TV stand also has one of the smallest footprint for 42 inch TV stands.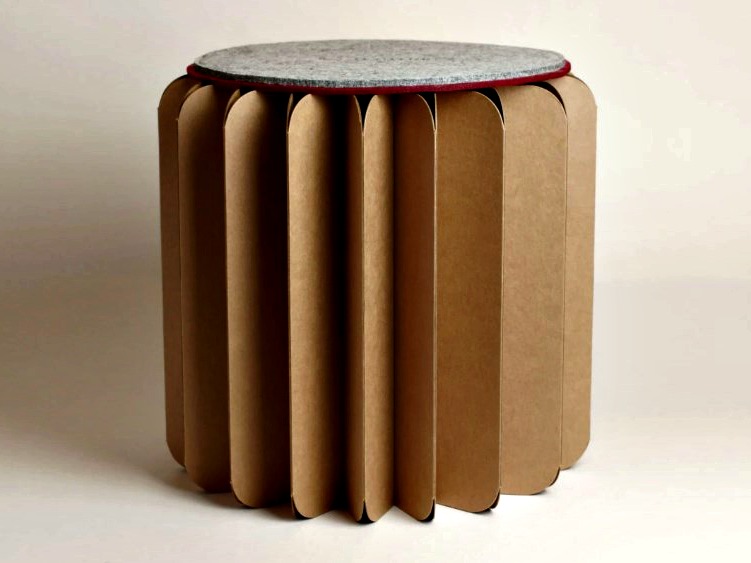 The Bookniture is a stool cum side table that can be collapsed down to something no larger than a coffee table book. The stool/table measures 13.5 inches tall and 14 inches in diameter. In book form, it measures 13″ h x 7″ w x 1.5″ d. It is a hefty volume but still very much portable. If you live in a tiny apartment, you will no doubt understand the immense benefits of a piece of furniture that can be transformed into a book. Especially when it comes to extra seating for guests.
The Sauder Edge Water Computer Armoire is a space-saving cabinet that conceals your home office work desk and has enough space to store your laptop, extra monitor, printer, speakers, and much more behind its framed door panels. It comes with a slide-out work surface and keyboard/mouse shelf with full extension slides as well as metal runners with safety stops. It also comes with a slide out adjustable printer shelf with metal runners and safety stops. Aside from that, it includes two adjustable shelves giving you additional storage options. It has an enclosed back panel for all your cords. Its full upper shelf offers additional storage as well.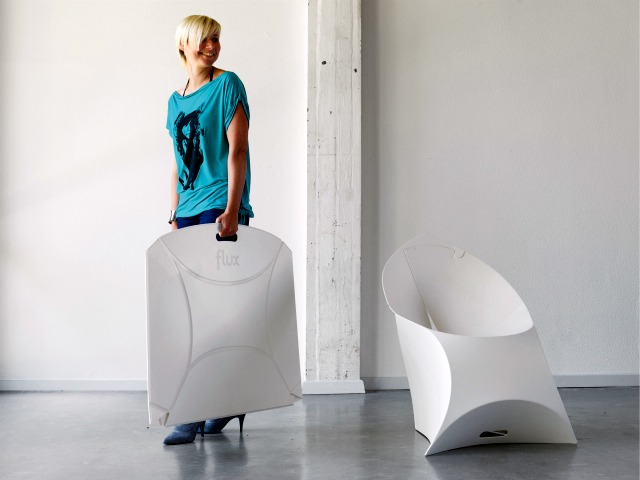 The Flux Chair is a remarkable work of engineering and design. It is constructed out of a single piece of completely recyclable polypropylene plastic. When folded flat, it looks like a large artist folio complete with a handle for easy transport. But with just three easy steps and about 10 seconds, it unfolds into a beautiful designer chair that looks stunning both indoors and outdoors.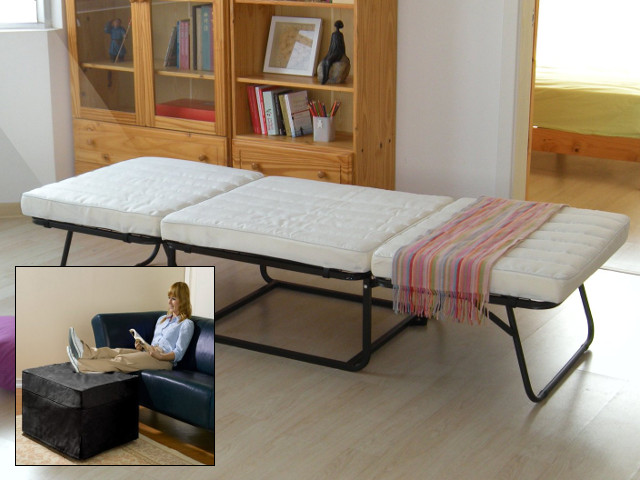 The Ottoman/Sleeper takes up a fraction of the space of a sofa bed and yet can transform into comfy 75″ x 27.5″ x 16.25″ H bed with a 3″ thick mattress. When folded into an ottoman, it measures a very compact 29″ x 28″ x 16.25″H. No assembly is required and it takes just seconds to convert from one mode to the other. Just remove the ottoman cover and unfold the metal frame.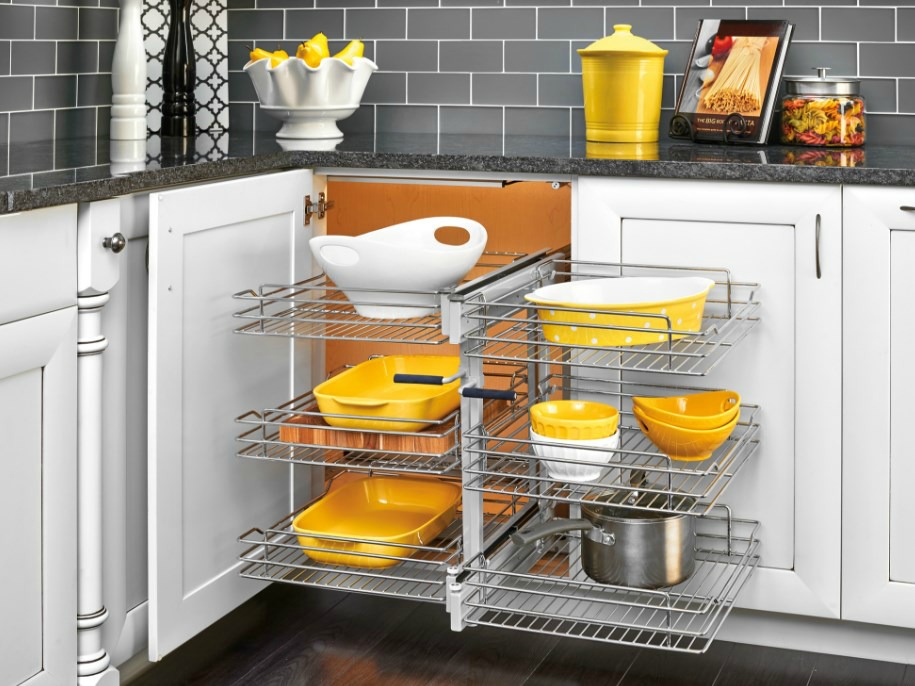 The Rev-A-Shelf Basket Organizer is not so much a piece of space saving furniture. But it transforms unused blind corner space in your kitchen cabinet into usable storage space. It makes the hidden space easily accessible by having the entire wire basket shelf slide right out from the cabinet.
First, you pull out the shelf in the space next to the blind corner. Then you slide that shelf to the side which also slides the blind corner shelf along with it. Lastly, you can pull and slide out the blind corner shelf itself. Or as Rev-A-Shelf summarizes it – just pull, slide, pull. Couldn't be easier.