Gifts From a Galaxy Far, Far, Away
Star Wars will forever be known as the movie series the spawned a merchandising industry that is worth countless billions of dollars. Now that a new Star Wars trilogy is due to be released in the coming years, the interest in Star Wars paraphernalia is growing at a feverish pitch as both fans of the original trilogy plus the younger fans of the prequel trilogy just can't get enough of them.
If there is someone in your life who is a big Star Wars fan, we have prepared a list of Star Wars related gifts for fans of both trilogies. There is also something for the older fans, the young ones plus the young at heart.
While Star Wars Episode 1: The Phantom Menace may not have gone well with many fans of the original trilogy, there is one thing that has caught the imagination of all fans regardless if they liked the movie or not, the dual lightsaber of Darth Maul.
This cool Star Wars Darth Maul Lightsaber Room Light will make a great addition to any young fan's room.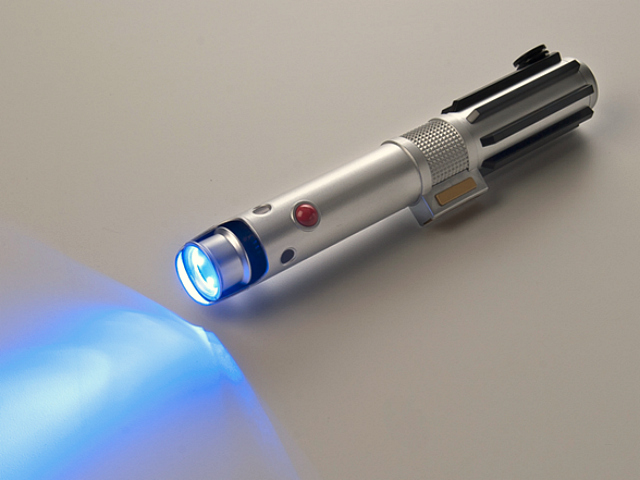 Relive childhood days of lightsaber battles using flashlights as lightsabers with the Star Wars Lightsaber Flashlight. Available in both Anakin's blue saber as well as Darth Vader's red saber designs, these authentic looking lightsaber flashlights not only look the part but sound the part as well.
Nothing declares your love for Star Wars more than a USB hub in the shape of the bust of Darth Vader sitting on your desk. Not only does this USB hub come with 4 expansion USB ports for all your USB port needs, it will also emit the signature Vader heavy breathing each time you plug in a USB device.
We have to admit that when we first laid eyes on the Star Wars Death Star Bluetooth Speaker, we wondered why nobody thought of this before. The Death Star makes a wonderful speaker. Especially the Superlaser Focus Laser Lens. Doesn't that make a great place to place the speaker grill?
If we are going to keep Han Solo frozen, he might as well be cooling our drinks. This silicone based Star Wars Han Solo Ice Tray comes with 7 compartments. Six small ones that create ice cubes that fit nicely in a drinking glass plus a larger one for cubes that are perfect in a jug or a punch bowl.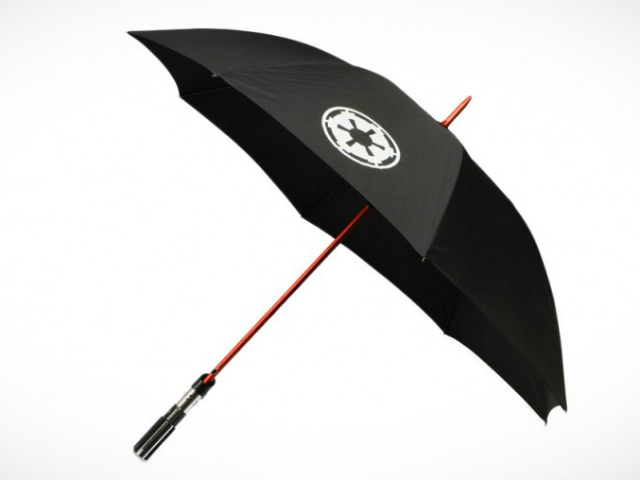 In the never ending quest to turn ordinary objects into lightsaber replicas, we now have the Star Wars Lightsaber Umbrella. As you would have expected, the lightsaber umbrella is an umbrella canopy stuck to a replica lightsaber handle and blade. Now you have a perfectly valid reason to bring a lightsaber with you to work every day.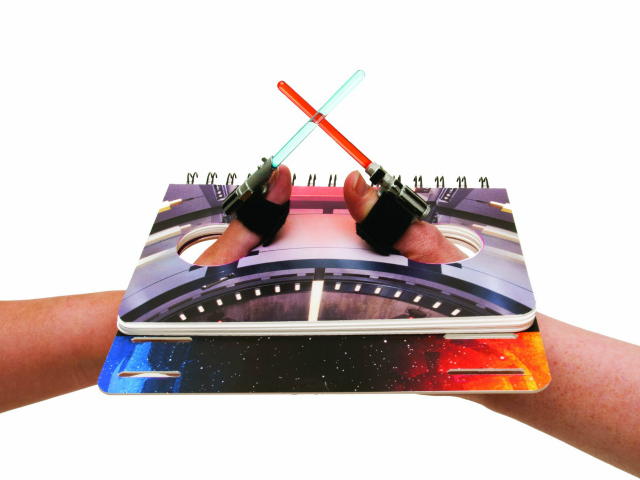 Be the ultimate Lightsaber Thumb Wrestling champion. Strap on a Velcro lightsaber to your thumb and battle across the galaxy in multiple thumb wrestling arenas, from the sandy desert of Tatooine to the dizzying platform of Cloud City.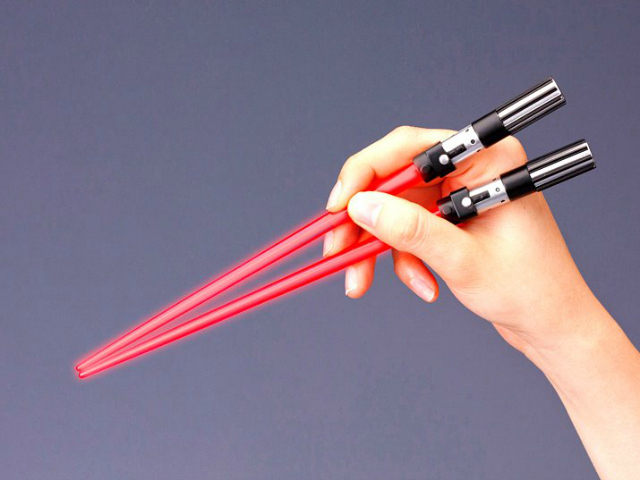 Lightsaber shaped chopsticks that light up! There, that alone plus the picture above should probably get any true Star Wars fan reaching for the wallet.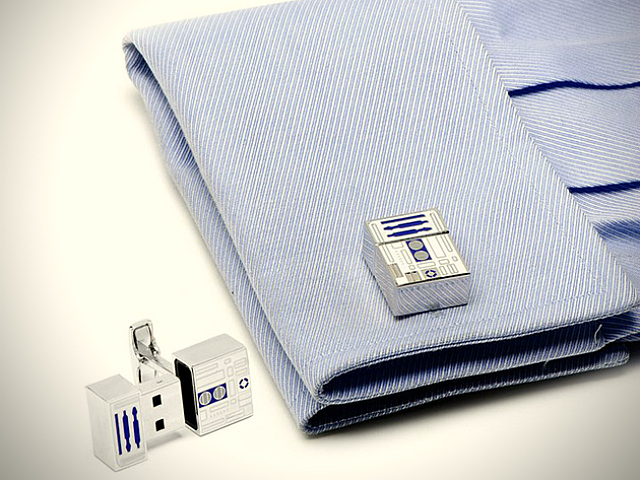 The fact that the design of these cuff links are based on everyone's favorite Star Wars droid should probably excite any fan of R2-D2. Throw in the fact that each of these R2-D2 USB Cufflinks also hides a USB flash drive, that will probably blow their minds away. With 2 GB of storage in each flash drive, there is more than enough space to store the Death Star plans plus photos of your last holiday to Coruscant.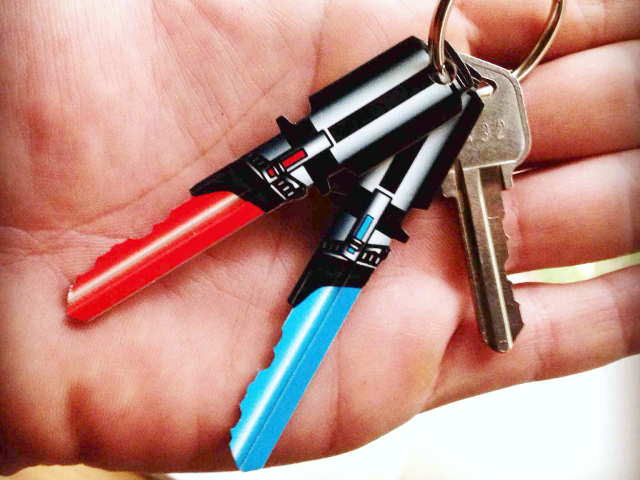 While a real lightsaber will come in real handy in opening any locked door, the lightsaber inspired Space Keys will handily open the door to your home. Space Keys are blank keys that are compatible with many branded locks including Yale, Kwikset and Schlage.