Star Wars will forever be known as the movie series that spawned a merchandising industry that is worth countless billions of dollars. Now that the Star Wars movies will finally come to a conclusion, the interest in Star Wars paraphernalia is once again growing at a feverish pitch. Fans of the original trilogy, prequel trilogy (yes, we are looking at 3 of you) and the sequel trilogy just can't get enough of them.
If there is someone in your life who is a big Star Wars fan, we have prepared a list of Star Wars related gifts for fans of the movies. There is also something for the older fans, the young ones plus the young at heart.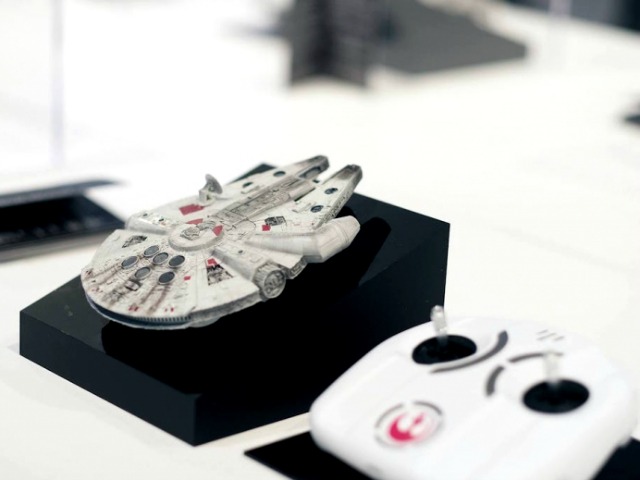 This Propel drone looks absolutely gorgeous with awesome hand-painted details covering the ship plus LEDs that light up the Millennium Falcon at all the right places. It is the closest you are going to get to piloting this legendary ship.
The attention to detail doesn't just stop at the drone itself. The packaging is equally impressive and displays the model beautifully. You may not even want to remove it from the box. When you finally find the courage to open the box, you'll hear Han's familiar voice boasting about the Falcon's Kessel Run.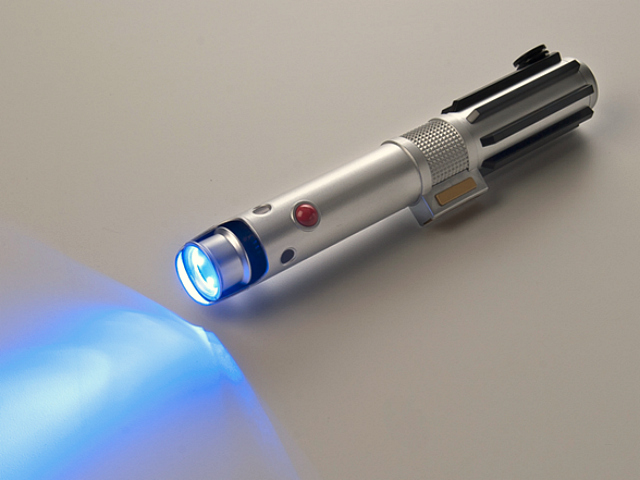 Relive childhood days of lightsaber battles using flashlights as lightsabers with the Star Wars Lightsaber Flashlight. Available in both Anakin's blue saber as well as Darth Vader's red saber designs, these authentic looking lightsaber flashlights not only look the part but sound the part as well.
This AT-AT Multi-Stand caddy is HUGE it was at over 10 inches tall! It has various compartments for storing all your stationery including the head which has a hatch that pops open for storing small items like paper clips. The body section can be used as a coin box.
The AT-AT is fully poseable. You can even pose it in the classic "kneeled over" position. At this point, you are probably already slowly pulling out your wallet out without realizing it.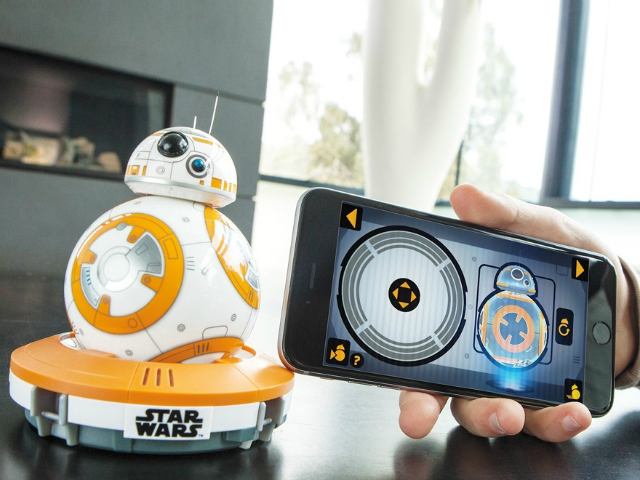 The Sphero BB-8 App-Enabled Droid is a robot like no other. It can adapt to any personality depending on your reactions. It comes with authentic movements that can be controlled from a smartphone or tablet. BB-8 has the ability to recognize and react to your voice. But it also has a mind of its own.
The Sphero BB-8 has the ability to record and view virtual holographic videos. Virtual because it can only be seen using the app using augmented reality. Made from durable polycarbonate shell, it comes with an internal guidance system that includes a gyroscope and accelerometer.
If we are going to keep Han Solo frozen, he might as well be cooling our drinks. This silicone based Star Wars Han Solo Ice Tray comes with 7 compartments. Six small ones that create ice cubes that fit nicely in a drinking glass plus a larger one for cubes that are perfect in a jug or a punch bowl.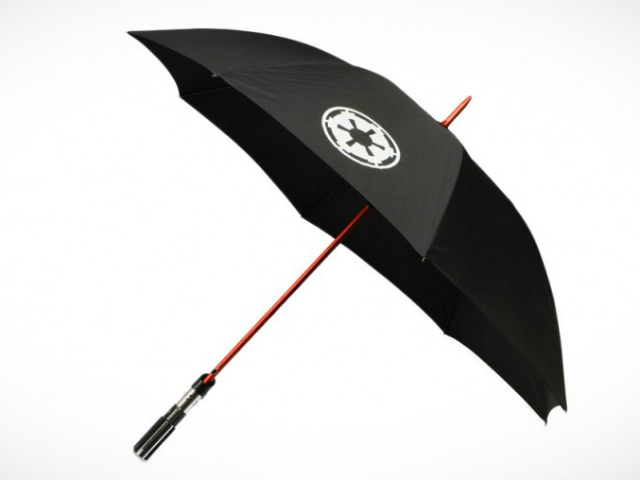 In the never ending quest to turn ordinary objects into lightsaber replicas, we now have the Star Wars Lightsaber Umbrella. As you would have expected, the lightsaber umbrella is an umbrella canopy stuck to a replica lightsaber handle and blade. Now you have a perfectly valid reason to bring a lightsaber with you to work every day.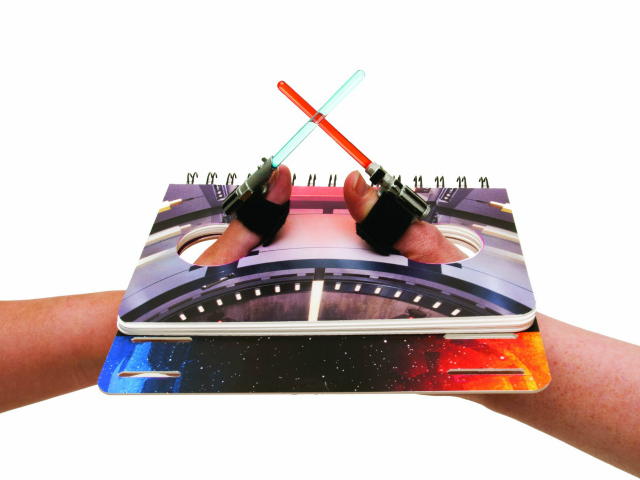 Be the ultimate Lightsaber Thumb Wrestling champion. Strap on a Velcro lightsaber to your thumb and battle across the galaxy in multiple thumb wrestling arenas, from the sandy desert of Tatooine to the dizzying platform of Cloud City.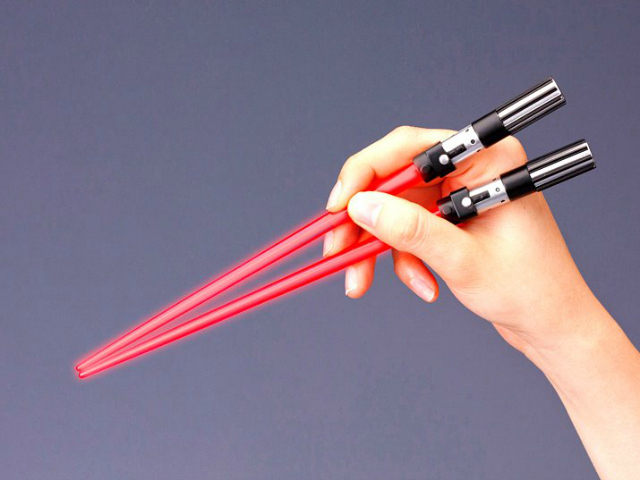 Lightsaber shaped chopsticks that light up! There, that alone plus the picture above should probably get any true Star Wars fan reaching for the wallet.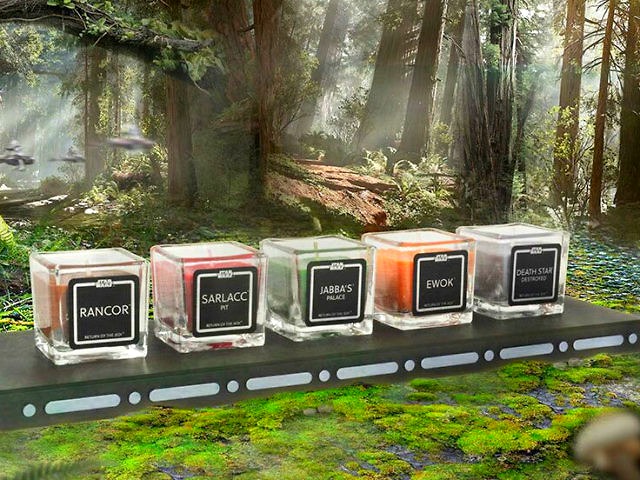 Have you ever wondered what a Wookie smells like? Or how about the stink of a Trash Compactor on the detention level of the Death Star? Curious about the scent of ionized air during a Lightsaber Battle? Wonder no more. You can now satisfy your curiosity with the Star Wars Scented Candles Set.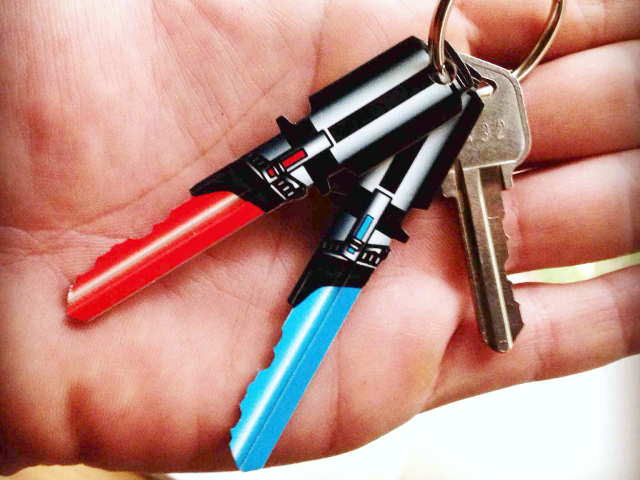 While a real lightsaber will come in real handy in opening any locked door, the lightsaber inspired Space Keys will handily open the door to your home. Space Keys are blank keys that are compatible with many branded locks including Yale, Kwikset and Schlage.