Summer is the time for holidays and fun in the sun. However, summer can also mean long, hot and uncomfortable days. The summer heat can sap you up and leave you withering in the scorching sun. Don't let the heat bum you out. GetdatGadget has prepared a list of cool gadgets that will help cool you down or at the very least, make this summer a little more enjoyable for you.
The ultimate way to chill out this summer is with the IcyBreeze portable air conditioner cum cooler. Not only does the IcyBreeze blasts you with cool air up to 25 mph but it also stores and keeps your drinks cool.
Remember your childhood days of cooling off at the lawn during hot summer days by fooling around with the garden hose? With the Magic Showerhead Automatic Garden Shower, you can now relive those carefree days but with a little more style and elegance. Requiring just a simple hook up to your garden hose, the Magic Showerhead Automatic Garden Shower 22 water jet nozzles with adjustable water height to help cool you down. All you have to do is step up on the platform.
Need a really cool and unique ice shot glass for the summer? You can't get any more unique or cooler with the Ice Shot Glasses Mold. The entire shot glass itself is made from ice. Besides water, you can also make shot glasses made from frozen fruit juice, soft drinks or even funky food stuff like chocolate and jelly. Best of all, no cleaning up necessary after use.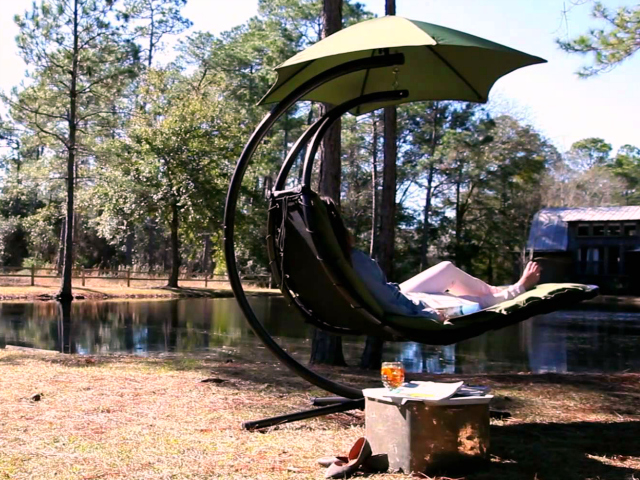 When it gets really hot, all you want to do is lie down, relax and chill out. Preferably in your very own Vivere Original Dream Chair. There is a reason why Vivere named their backyard chair the Dream Chair. It is a hybrid between a chair and a hammock plus it has a 2 inch foam support for ultimate comfort and a 46 inch canopy when the sun gets a little too much.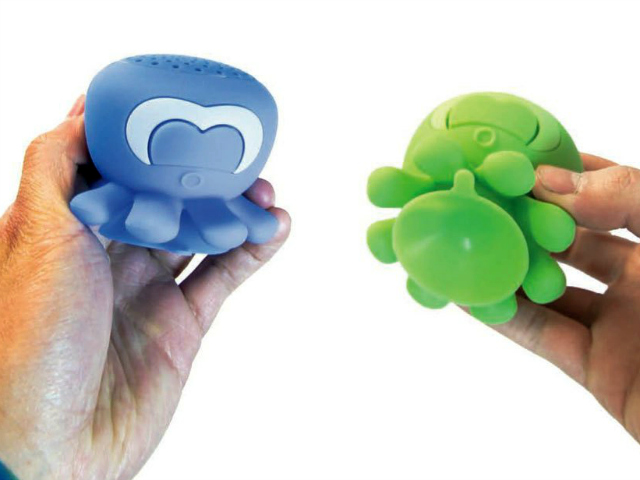 Long hot summer days usually means spending more time in the shower cooling off. Make the most of your time in the shower with the Creature Speaker. Creature Speakers are a range of waterproof wireless Bluetooth speakers that are designed to be your shower companion. They connect to your smartphone or other Bluetooth capable audio players letting you enjoy your favorite summer tunes while in the shower.
What is summer without delicious, cooling and sinful ice cream? With the Yay Labs SoftShell Ice Cream ball, you can make your very own homemade ice cream while letting the young ones (and the young at heart) play ball at the same time. Just fill the Yay Labs SoftShell Ice Cream ball with ice, rock salt and ice cream mix, seal it and let the kids kick around the ball for about 20 minutes and the ice cream is ready to be eaten.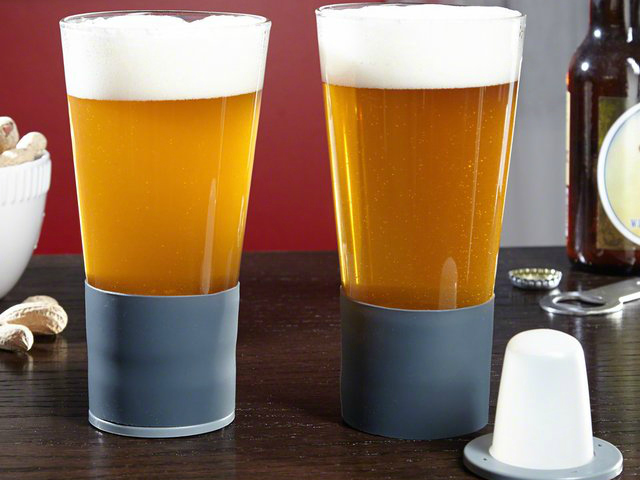 You know what else is synonymous with cooling down during summer? An ice cold beer! Keeping beer cool while you slowly sip and enjoy your beer can be a problem because of the heat. A problem that can be easily solved with the Self-Chilling Beer Glass. The Self-Chilling Beer Glass is an ingenious beer glass with a frozen gel-filled dimple at its base. A single dimple will keep your beer nicely chilled at the perfect temperature for about 30 minutes.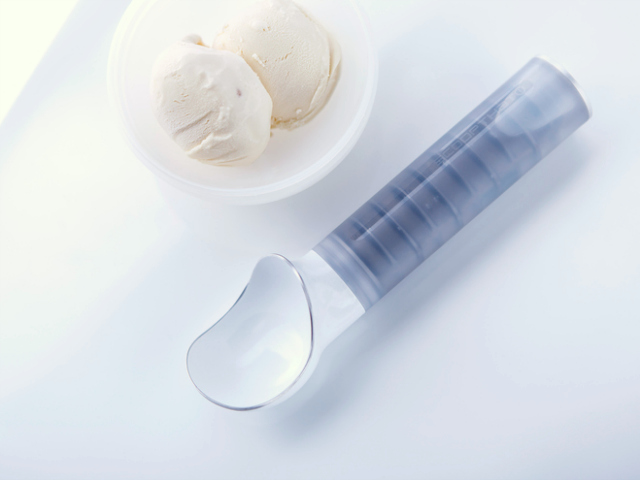 Whether you are making your own homemade ice cream or from the store, getting that frozen ice cream from the tub into your ice cream bowl may require quite a bit of time and effort. Time and effort that you would rather spend lazing and eating your ice cream. Fear not for the ScoopTHAT! ice cream scoop if here to save your day. The ScoopTHAT! ice cream scoop uses heat generated by your hand to warm up the scoop letting you easily scoop out delicious dollobs of ice cream with minimal effort.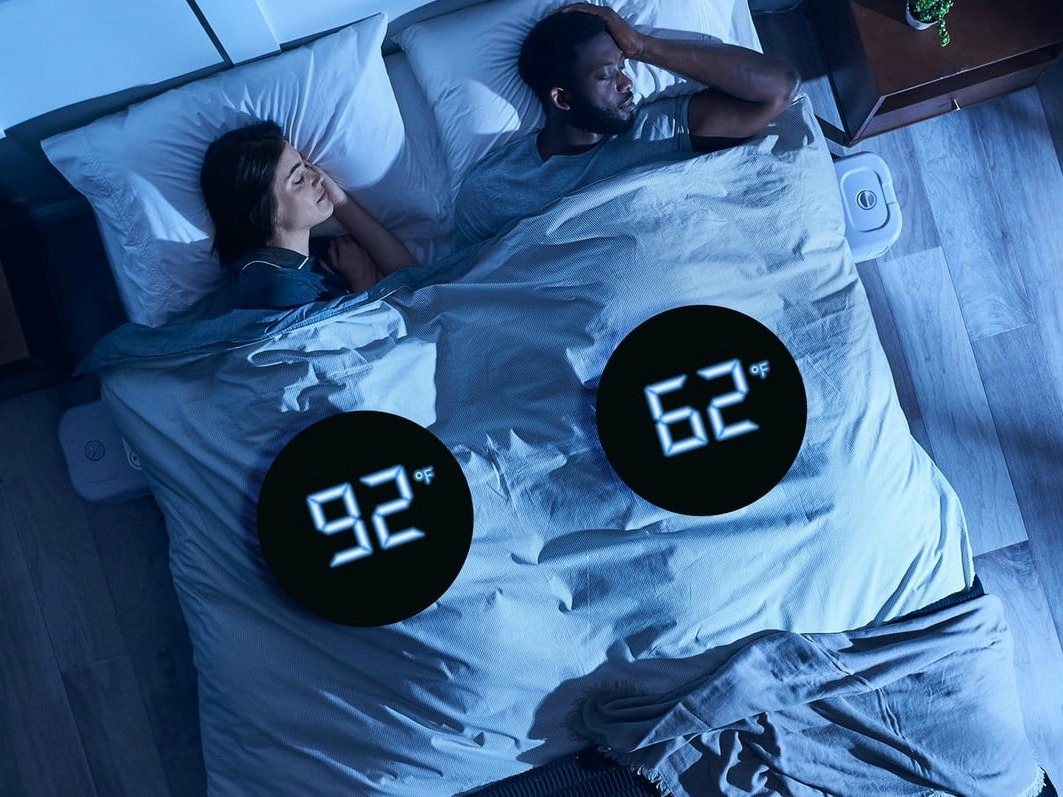 The ChiliPad is kinda like an electric blanket except that you lie on it plus it can chill as well as heat making it the perfect gadget for your bed during hot summer months. There are two advantages that the ChiliPad has over just switching on the air conditioning. Firstly, the queen or king-sized ChiliPad has 2 separate cooling zones, one for each side of the bed. You and your bed partner can set your own preferred temperature. Secondly, the ChiliPad is much more energy efficient than using an air conditioner.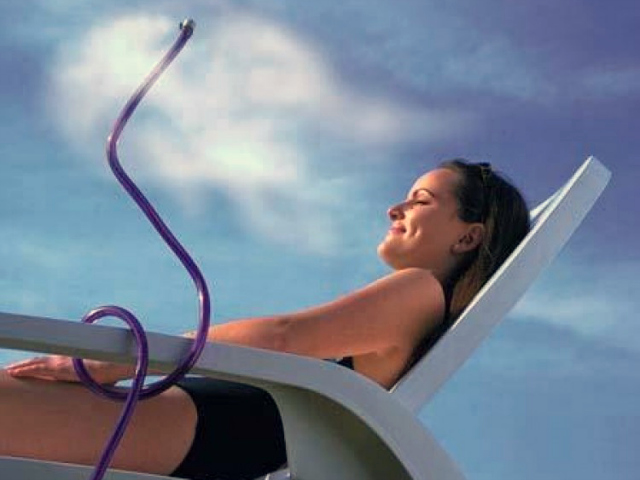 Keep cool this summer without spending a dime on air conditioning. Just connect the Cobra Flexible Mistand to your garden hose and let the misty cloud cool down the surrounding air by as much as 20 degrees. No electricity required.