Umbrellas can be cumbersome although you would most certainly regret not having one when you get soaking wet when it pours. But at other times, it is just an extra item that you have to lug around taking up space in your bag or something that you have to constantly remind yourself not to forget.
But guess what? Umbrellas can be fun too. Forget about your plain old umbrella. Here are GetdatGadget's picks of the 9 best umbrellas that are not only unique but are guaranteed to brighten up your rainy days.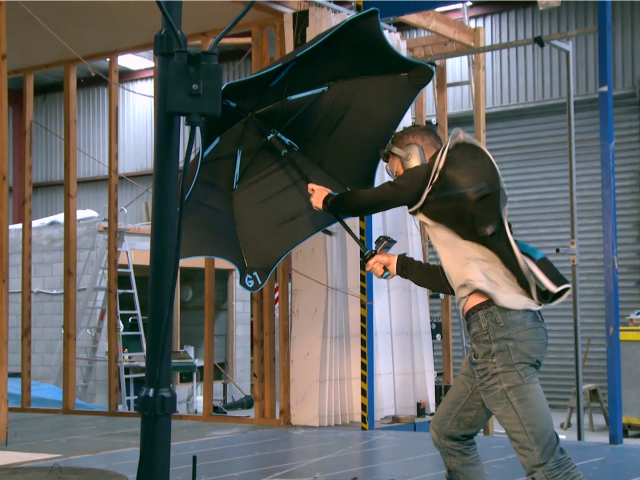 Umbrellas are pretty good at keeping you dry when it rains but when you add strong winds as well, chances are your umbrella will collapse thus becoming totally useless. If strong winds are a common occurrence where you are from, you should replace your umbrella with the Blunt Umbrella.
This umbrella is specially engineered to be super strong and can withstand wind speeds approaching that of a hurricane. It is made from fibreglass to keep its weight down.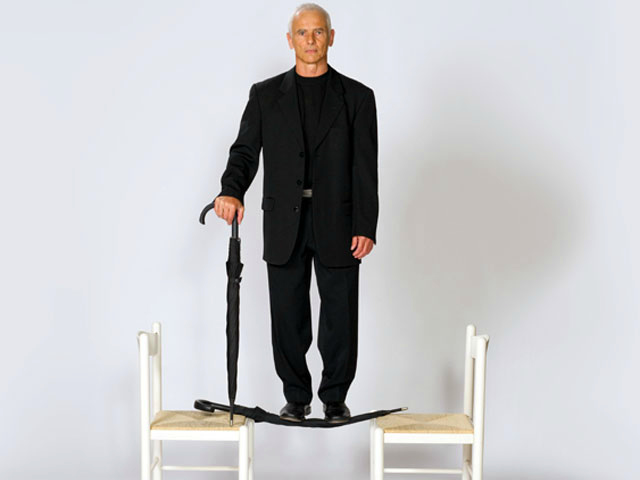 The Unbreakable Umbrella, like its name suggests, is another stronger than normal umbrella. However unlike the Blunt Umbrella, its strength is not for withstanding a hurricane but it doubles up as a deadly weapon. The reinforced ribs of the umbrella allow you to use the umbrella to hit with the force of a steel pipe. Unlike some weapons that are banned from public places, you can certainly bring this anywhere with you.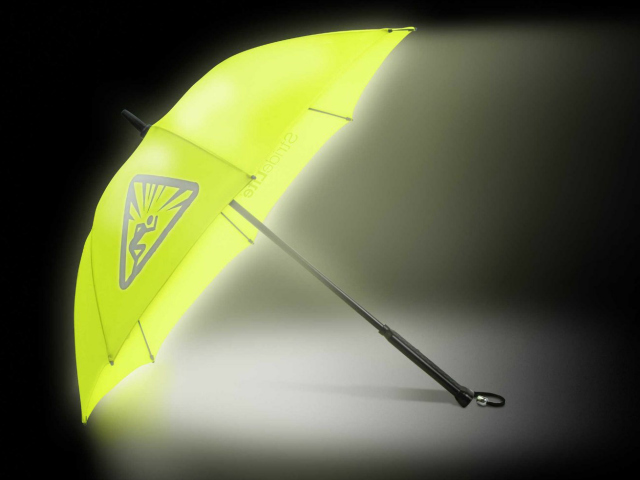 Besides being a deadly "hidden in plain sight" self-defense weapon, there are other ways that an umbrella can keep you safe. When it rains, visibility can drastically reduce thus putting you at risk of being knocked down. This risk increases exponentially when it is dark.
The StrideLite umbrella keeps you safe by making you more visible. The entire umbrella canopy lights up thanks to a built-in high intensity light and a canopy that is made from a highly reflective material. According to test, users can be seen from as far as a quarter mile away from all directions.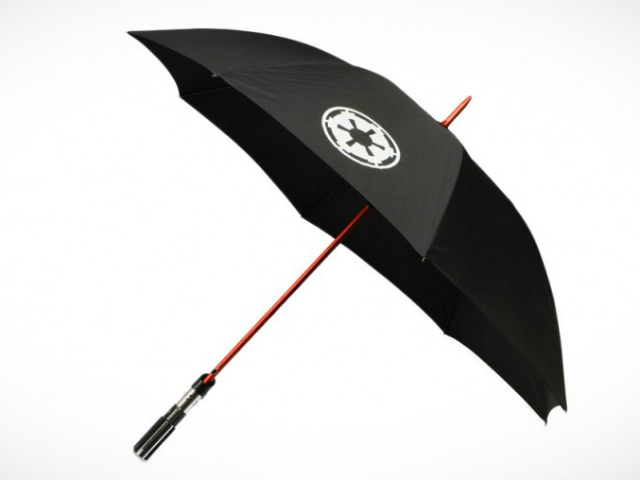 Fans of Star Wars will no doubt go bonkers over the Star Wars Lightsaber Umbrella. The hilt of the umbrella is designed to look like a lightsaber from the movies. You can choose one that is modeled after Yoda, Obi-Wan or even the Sith Lord himself, Darth Vader. Unfortunately, the umbrella shaft doesn't actually light up although it is painted in the right color to match the lightsaber hilt.
With the Lightsaber Umbrella, I bet you can't wait for it to rain so that you can whip it out and wage a lightsaber battle against the elements. May the Force (of the winds) be with you.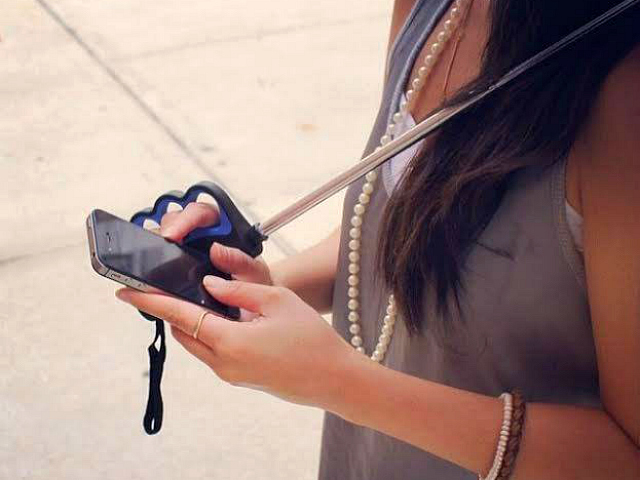 When you are holding an umbrella, doesn't it pisses you off that you can no longer do the things that you require two free hands to do like holding a drink in one hand and eating a sandwich with the other? Or more importantly, tapping out text messages using both hands?
Well, the Brolly Texting Umbrella saves you from this predicament. The umbrella has a special handle that looks pretty much like a knuckle buster that lets you comfortably grip the umbrella while leaving your fingers free to hang on to your phone or tap on the screen. Now the whole world will continue getting updates from you even when it's raining.
The Zero Grid Travel Umbrella is a great umbrella for your car as it is both an umbrella and a flashlight, 2 essential items for any car. The umbrella is compact and should easily fit into most but the smallest glove compartments. Built into the handle is an LED flashlight that also swivels. The swivelling function allows you to adjust the direction the flashlight is shining when you are using both umbrella and flashlight functions at the same time.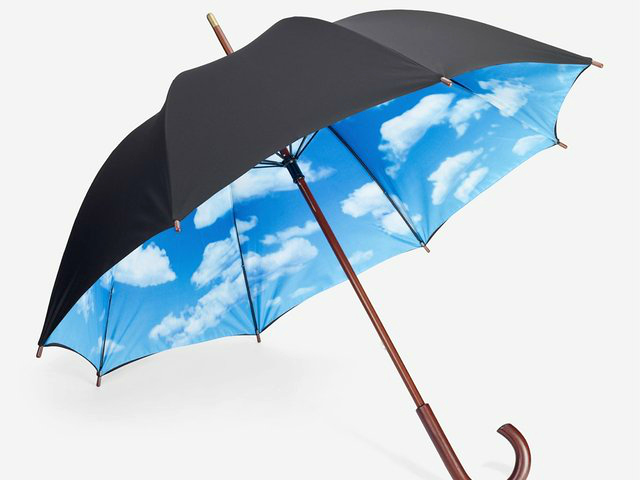 The Sky Umbrella looks like any plain, boring, black umbrella. However, when you open it up, the bright blue sky dotted with fluffy white clouds will absolutely bring a smile to your face and cheer you up on any dreary and wet day. And all's right with the world again.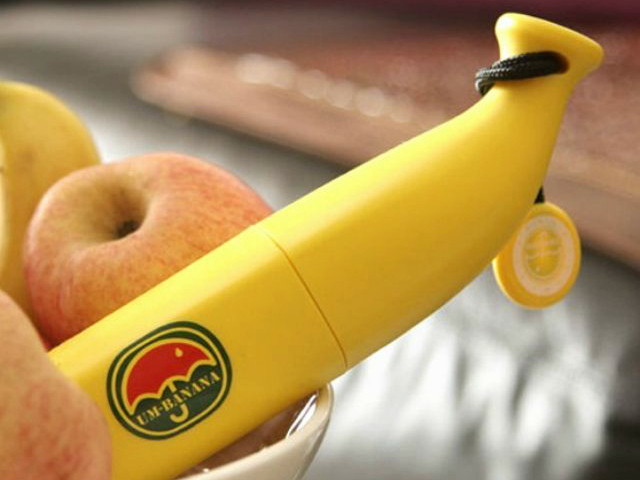 The Um-Banana Compact Umbrella is a compact umbrella that is shaped like a, you guessed it, an umbrella. It is a trifold umbrella and when folded, it fits into its banana-shaped container. The umbrella canopy is available in only one color, bright yellow, of course but the container can be either yellow or green, depending on whether you like your bananas ripe or not.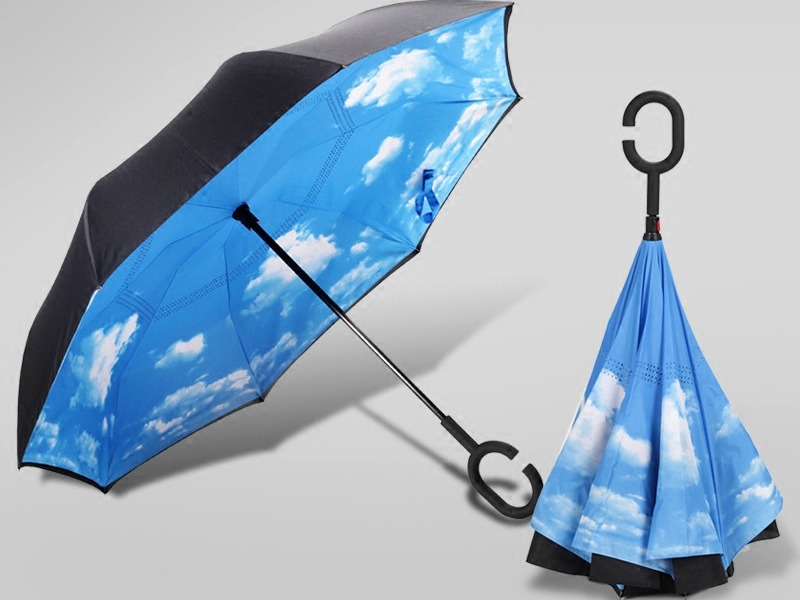 All the umbrellas are unique or special in their own special way but they are not much different design wise, from the standard umbrella design. However, the Upside Down Umbrella literally takes the traditional umbrella and turns it upside down and ironically, make it a better umbrella.
The Upside Down Umbrella opens in reverse as if you took the handle of the umbrella and stick it to the top of the  shaft. While unorthodox, this allow you to easily open or close the umbrella when exiting or entering a car. Another advantage of the design is that the wet part of the umbrella is now on the inside instead of the outside. That means no water dripping everywhere.
The other innovation of this umbrella is the double U hook handle. This allows you to hook the umbrella around your wrist when the umbrella is both closed and open thus ensuring that you always have two free hands.