8 Gadgets Jolene Would Love to Have in Her Kitchen
Who is Jolene? Jolene is a free-spirited friend of ours who also happens to be one heck of a cook. We got her to take a look at our list of kitchen gadgets in the "Home & Kitchen" category and she came back with a list of 8 gadgets that tickled her fancy. We thought that her list was pretty interesting and decided to publish it on our site.
So there you have it, 8 fascinating kitchen gadgets that our favorite food-loving friend would love to add to her kitchen.

Place this over a hard or soft-boiled egg, pull up the handle and release it. The egg topper neatly slices off the top portion of the egg shell while leaving no shell traces in your egg. This neat device uses tiny vibrations to cut through the egg shell leaving you a perfect egg for your enjoyment.
Who would have thought that adding a strainer to a reamer would make such a great improvement to your ordinary citrus reamer? The great designers at Joseph Joseph has once again shown how simple additions can make our life in the kitchen so much easier.
The Lekue Silicone Bread Maker doesn't help improve the taste of your bread but it does make the entire bread making process a whole lot simpler by using the same container for measuring your ingredients, kneading the dough and lastly use it as the container for baking the bread in. You can even serve your bread in the same container.
Novelty ice trays are great for producing interestingly shaped ice cubes that will liven up any party. The AK47 Bullet ice cube tray produces 10 bullet shaped chilling ice cubes. The perfect accompaniment to that hot party of yours.
Jolene doesn't like tea but nonetheless she was smitten by this "punny" Deep Tea Diver tea infuser. This adorable looking loose tea leaf infuser even comes with a stainless steel air tank that acts as a counterweight as the diver steeps into the deep (ouch!).
Yet another time saving kitchen gadget that becomes that much more useful just by adding a simple strainer to the design. Just wash your veggies as you normally would in the Umbra container and then slide out the strainer to pour out the water.
The second Joseph Joseph kitchen gadget that catches Jolene's fancy is the Twist 2-in-1 Silicone Whisk. This transforming silicone whisk changes from a balloon whisk to a flat whisk with just a simple twist of the handle.  A flat whisk also takes up much less storage space than a balloon whisk.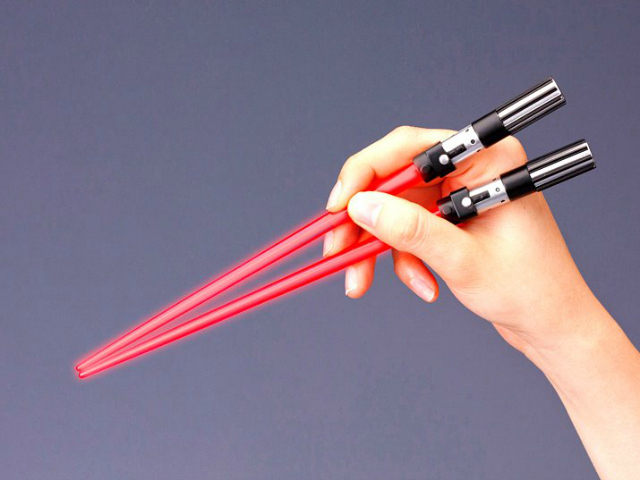 Jolene reveals the geeky-ness side of her by picking the Star Wars Light Up chopsticks as one of the items on her list. Not only is this pair of chopsticks modeled after Darth Vader's red bladed light saber, they also light up. Eating your favorite bowl of ramen noodles will never be the same again.