10 Fun Toys That Do Not Require Batteries
The most popular children's toys today are mainly electronic and battery operated toys. Toy designers rely on electronic visuals and sounds to attract the attention of kids. Fortunately, although it is probably a dying breed, there are still fun toys out there that are a delight to children of all ages that has no electronics in them and do not require any batteries.
Although they do not run on batteries, these toys are just as fun or perhaps even more fun than electronic toys. Best of all, many of these toys promote interaction with other children. Consider one of these toys instead if you are thinking of presents for children.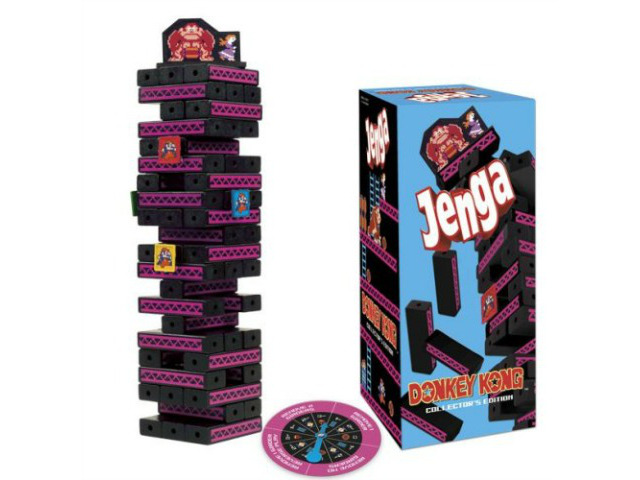 This is a 2-in-1 updated version of the classic Jenga game. Not only does it successfully bridges between a traditional game and a popular electronic game, it somehow faithfully incorporates the heart of the Donkey Kong game into the the traditional Jenga game play. Besides making sure that the tower does not crumble, players also have to race each other up the tower to rescue Pauline. You can of course play using the classic rules.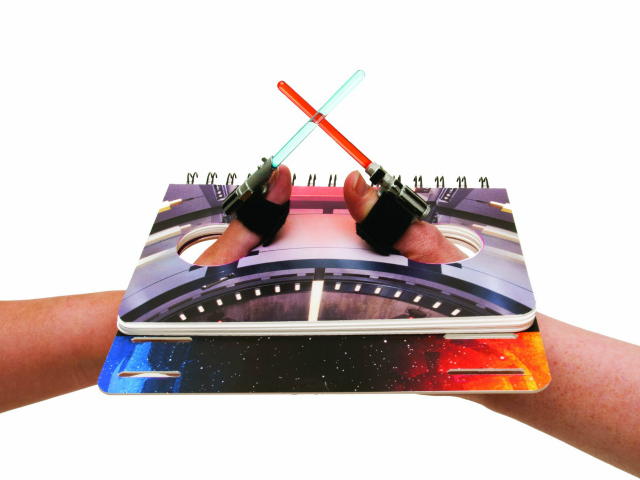 Bring thumb wrestling to the next level by introducing lightsabers. The Star Wars Lightsaber Thumb Wrestling has a spiral bound book that provides the many vistas and backgrounds to the most grueling thumb wrestling matches in the galaxy. Choose your arena, strap on your lightsaber to your thumb and let the battle begin.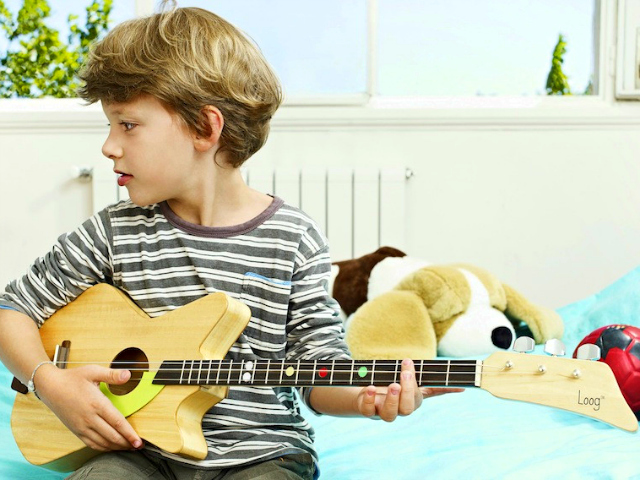 The Loog Guitar is not a toy but an actual musical instrument. However, unlike a real guitar, it has only 3 strings which makes learning the guitar much more manageable for the young ones. To add to the education value, kids get to learn to build their very own Loog Guitar. Instructions and videos are included. Best of all, skills in playing the Loog are transferable to an actual guitar.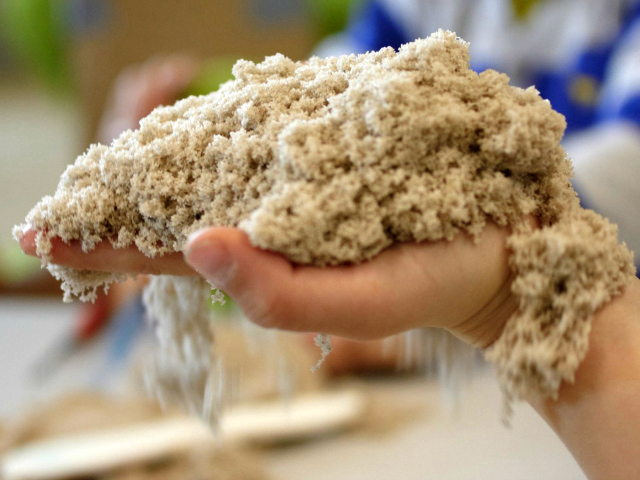 The sandbox is always popular among kids but it is strictly an outdoor activity. Kinetic Sand lets you bring all the fun of playing with sand indoors but minus all the mess. Kinetic Sand is 98% sand but the sand particles stick to itself and therefore there is no mess of loose sand all over the house. You can mold it and build shapes just like real wet sand but it also literally melt like a dense liquid. It is also dust and allergen free.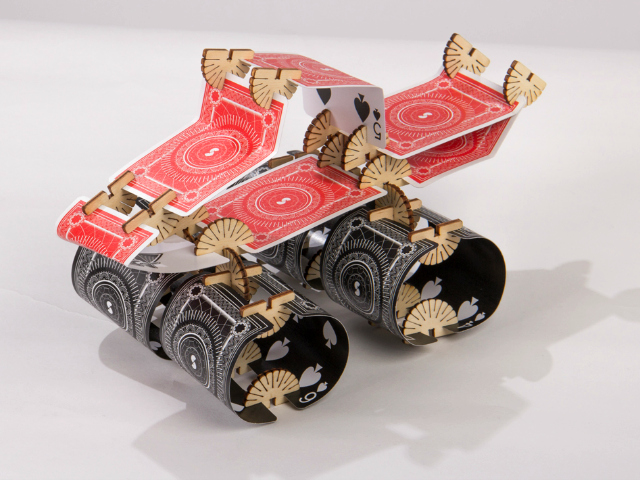 Building a house of cards takes on a whole new fun factor with Skallops. With Skallops, kids are no longer limited to simple card structures as their imagination is the only limit to what kind of structures they can build with just the Skallops card connectors and a few decks of cards. Build massive castles, bridges and even vehicles. Unlike building blocks and erector sets, expanding your Skallops set to build even larger structures is a whole lot cheaper.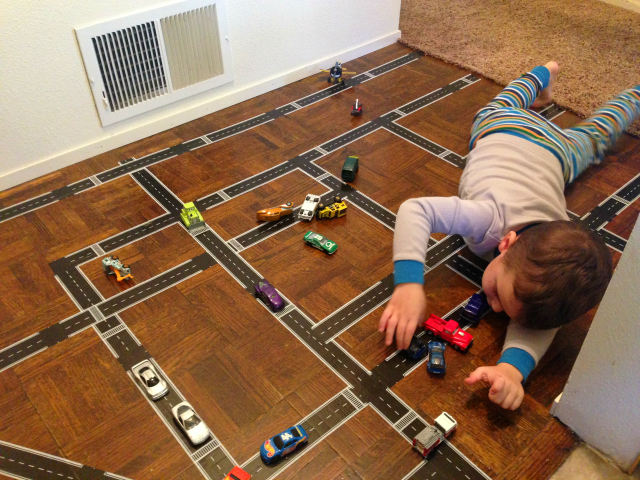 One of the things that came to my mind when I first played SimCity was how I wished building streets on a model toy city was that easy. With the Civil Engineer Tape, it comes very close. This adhesive tape lets kids build roadways by just laying the pre-printed road tape on floors and carpets. You can build an entire network of connecting roads for an entire city in just minutes. Just add cars, buildings, bridges and other city objects and structures.
Erector sets are one of few toys that have managed to remain popular among kids. The Hanz Inventors Lab Kit uses a system of beams, wheels, tires, rubber bands and "brains" to build all kinds of structures, machines and vehicles. Many of the building principles used by the Hanz Inventors Lab system are based on real-world engineering physics. It is no wonder that many major corporations use this building system to train their engineers and product designers.
The Yay Labs SoftShell Play Ball is a unique toy that combines a toy, ice cream, a kitchen apparatus, exercise and fun all into one. Before you let the young ones have the ball, fill it up with ice cream mix, your favorite flavorings and rock salt. Let the kids play and enjoy themselves with the ball for about 20 minutes. Then open the ball and everyone can enjoy delicious ice cream.
Add a third dimension to play mats. The 3D Play Carpet adds more realism to an ordinary play mat by adding areas such as curbs, sidewalks and bushes that are slightly raised. Throw in play cars, pedestrians, some road signs and buildings made from painted cardboard boxes and you have yourself a bustling city. Multiple designs are available including one that has both an airport and a seaport.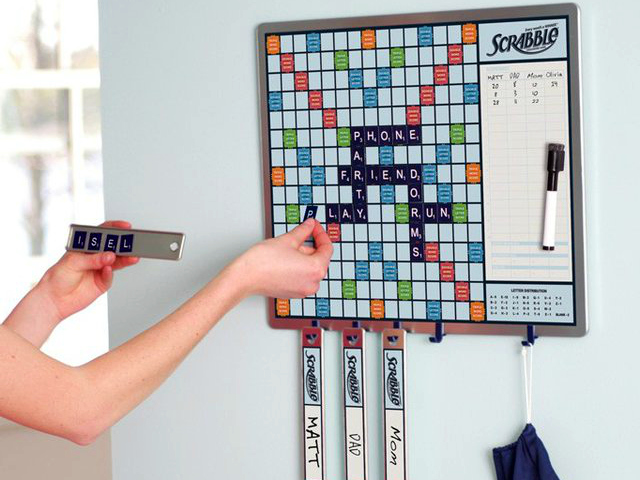 Scrabble is a classic board game that has withstood the times. It is great fun and one of the more educational board games. However, playing a full game takes up a significant amount of time and with their busy schedules, it may be difficult for parents to sit down to play am entire game of scrabble with their kids. With the Scrabble Game Plus Message Board, family members can join in a game of Scrabble that works around everybody's schedule.
Get Unlimited Reading With Amazon's Kindle Unlimited
Enjoy the freedom to explore over 1 million titles, thousands of audiobooks and current popular magazines on any device for just $9.99 a month.
Unlimited Reading. Unlimited Listening. Any Device.
Join Kindle Unlimited
Join Amazon Family 30-Day Free Trial
Save 20% on diapers subscriptions plus additional family-centric discounts and recommendations. Enjoy FREE Two-Day Shipping on millions of items. Unlimited instant streaming of thousands of movies and TV shows and other Prime benefits.
Join Kindle Unlimited