10 Amazing Gadgets that Fit in your Wallet
Everyone here at GetdatGadget loves gadgets. That goes without saying. Do you know what we love more? Great compact sized gadgets that we can bring around with us and enjoy at all times. Better still if the gadget fits in our wallet.
With that in mind, we thought that it would be a great idea if we shared with everyone what are the gadgets that fill the wallets of the staff at the GetdatGadget office. From the neat pile we had on the desk, we picked the ten that we liked the most. So without further ado, we present to you the GetdatGadget list of 10 Amazing Gadgets that Fit in your Wallet.
If you like this list, head on over to its follow up, More Amazing Gadgets the Fit in your Wallet.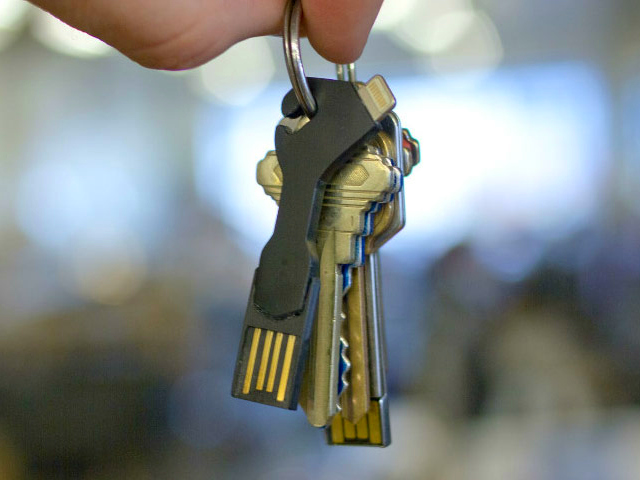 The ChargeKey is touted as the world's smallest Apple Lightning cable. If you own any of the new Apple iOS devices that has the Lightning connector you'll know how critical it is to have a Lightning cable with you for both data transfer and for charging your device. With the ChargeKey you can give your iPhone or iPad a quick charge via your laptop or from any USB power adapter. Just pop it into your wallet.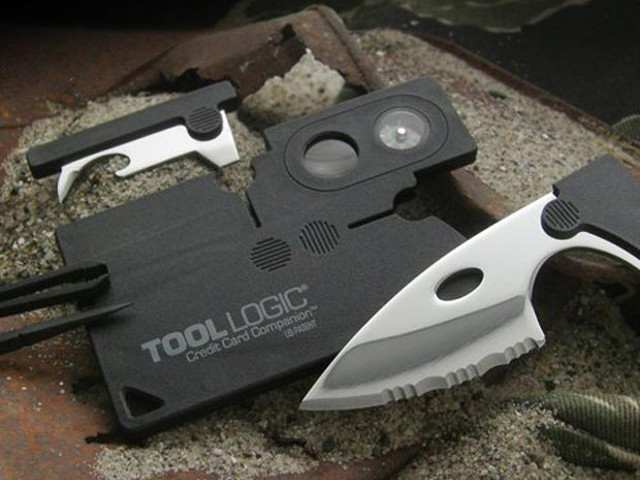 The Tool Logic Credit Card Companion is best described as a Swiss Army Knife in the shape and size of a credit card. Measuring just 3.375 x 2.125 inches and weighing just 1.4 oz, this compact tool comes with 8 useful tools including a serrated stainless steel blade, a magnifying glass, a flat screwdriver, tweezers and or course a bottle opener.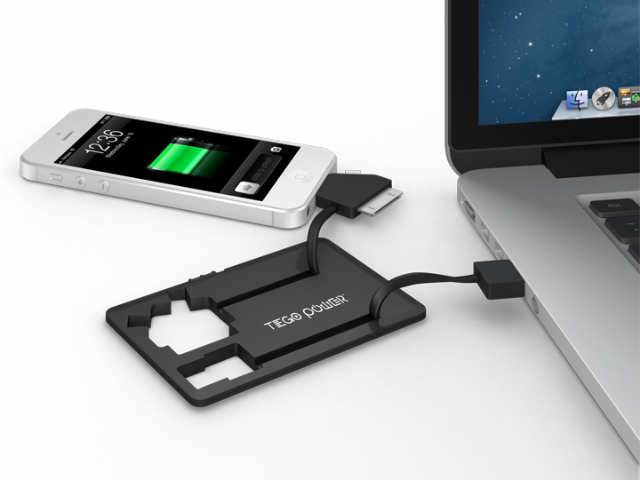 The ChargeKey is great if you only have Lightning connector devices but what if you also have devices sporting the older 30 pin connector and also (heaven forbid) Android devices with micro USB connectors? This is where the Tego Audio PowerCard Charger comes in handy. This super charger is the size of a credit card and therefore larger but it has connectors for all 3 different connectors and it will still handily fit in your wallet.
What is even more amazing is that the Tego Audio PowerCard Charger manages to squeeze in a 500 mAh rechargeable battery for emergency uses in its compact form factor.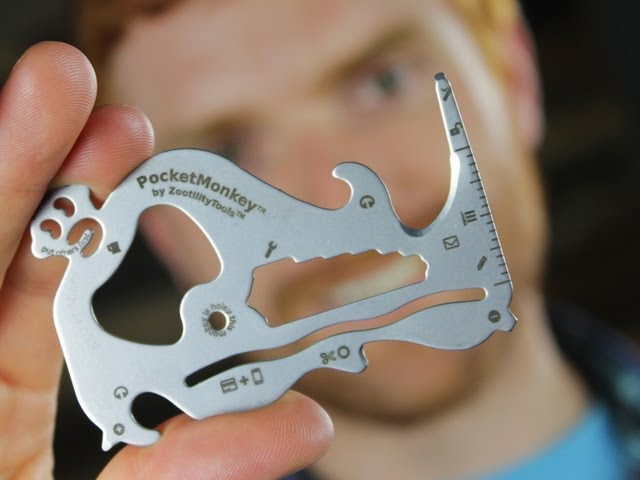 Credit card sized multi tools are a popular item in the office but the PocketMonkey Pocket Tool is one of the more popular choices. This TSA-compliant multi tool packs in 12 different tools including micro screwdriver (handy for emergency repairs of eyeglasses), 5 hex wrenches, a bottle opener and even a door latch slip when you find yourself locked out without a key.
The PocketMonkey Pocket Tool is made in the USA and a product of a highly successful Kickstarter project.
While we are slowly moving everything to the cloud, there are still many times when we find it much more convenient and faster to just do a quick transfer using a USB flash drive. The LaCie PetiteKey USB Flash Drive is a tiny drive the size of a small key. It comes in sizes of 8GB, 16GB and 32GB which is good enough for most uses. The key size form factor makes it perfect for slipping into a wallet while adding minimal bulk.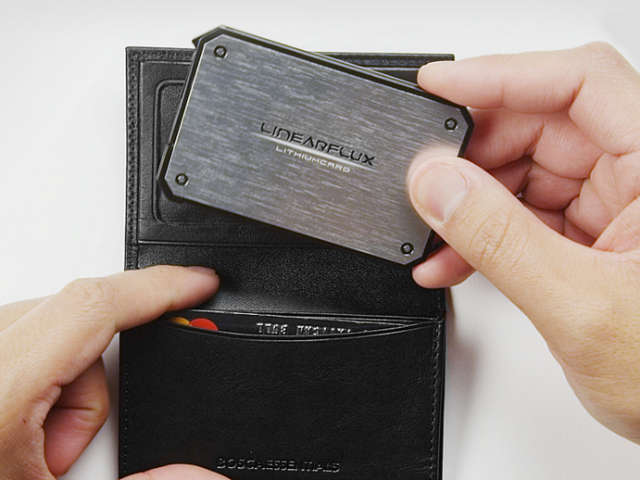 The Tego Audio PowerCard Charger only has a tiny 500 mAh battery for emergency charges. If you are looking for a much larger power bank that will still fit into your wallet, the LithiumCard has got you covered. It has a 1,200 mAh battery packed into a form factor that is about 5 credit cards thick. Furthermore, the LithiumCard quick charges at 2.1 A so that means less waiting. It will also work as a pass through charger when connected to the mains.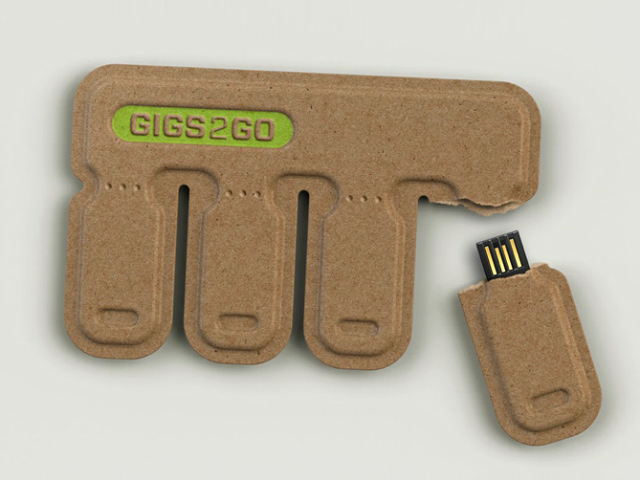 Gigs 2 Go is a handy set of 4 disposable USB flash drives, each with 8 GB of storage capacity. These 4 flash drives are packed together in a neat looking and environmentally friendly cardboard packaging about the size of a credit card. It fits neatly in a wallet and when you need to store some data, just break off a drive from the card. You can even jot down a quick label with a pen on the drive itself. How old school!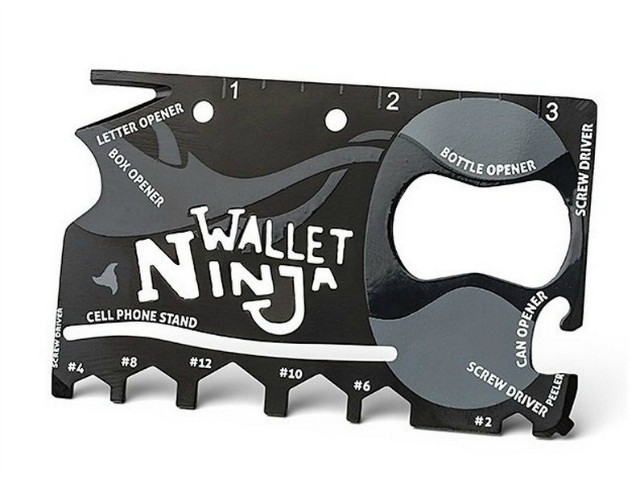 The Wallet Ninja 16-in-1 Pocket Multi-Tool is the other credit card sized multi tool that is very popular in the office. It features an amazing 16 different tools including favorites like 3 different screwdrivers, 6 hex wrenches and a bottle opener. It is made from heat treated steel and it is also TSA approved which means you can bring it along with you on a plane.
The Iain Sinclair Cardsharp2 Folding Knife is a 65 mm long knife that folds origami-like into a credit card sized form factor. Looking at its card form, you can't tell that it is actually a knife. It is an amazing feat of design and engineering. For safety, the knife comes with a safety lock that prevents the knife from accidentally opening up when stored in your pocket, wallet or drawer.
The last item on our list, the Plastc Card, isn't in anyone's wallet yet because it hasn't been released yet. However, we are quite sure it is on everyone's wish list. The Plastc Card is the one card that replaces all your other cards including your credit cards, ATM cards, loyalty cards, membership cards, discount cards, etc.
The Plastc Card stores all the information on the card and you can switch between the cards by swiping on the e-ink touch screen on the card. It has full support for magnetic stripe, barcode, chip and PIN and NFC contactless readers. It is truly the only card you will ever need.